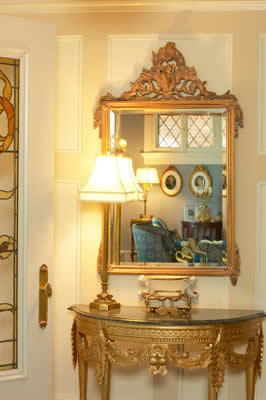 Downsizing Decorating Tips
I am sure the thought of downsizing seems like such an overwhelming task. Here are some tips that will help make it a little less stressful along the journey to your new home.
Set a plan and move date.

Start the organizing and preparation process at least three months prior to your move date. Take some time each day to start the inventory and editing process. Breaking it down into smaller tasks will help you feel less stressed.
Whistle while you work.

Put on some music or listen to a book on tape to make it more enjoyable.
Write a list of all the items you love and can't live without.

This includes sentimental items, heirlooms, etc. Choose the best of your belongings to bring with you.
Edit and edit some more!

This is the most challenging of the tasks. It is hard to let go sometimes. But ask yourself, does your new space need two rooms with sofas, can you part with one? Will you really need all your mixing bowls, pots and pans, etc.? Have you worn those shoes in the last year, if not let them go. (Trust me; I feel your pain on that one!)



Donate to local charities or sell what you do not need.

Charities often pick up items right at your door so you don't have to worry about hauling it away, plus it is tax deductible. Or, sell your items at a garage sale, in the paper, on Craigslist or eBay. Use the extra cash to buy something special for your new home.



Measure.

Grab a notebook, tape measure and have at it. Measure new and existing rooms, or better yet, get a floor plan if available. Don't forget the door width and hallways. Can all your furniture fit through the door or smaller hallways? Next, measure all your "must have" furniture. This will give you a clear understanding of what can fit in the space. These measurements may also help dictate what stays or goes.



Create Unity.

Keep similar colors running thematically throughout your new space. Connecting color themes can help create the feeling of a larger space.



Soften your space.

Use window treatments to add warmth, color and softness to your space.




Hire a Professional.

Addressing Spaces can help you transition from start to finish with our Downsizing Décor Services. We provide assistance with
· Overall move plan
· Current Inventory Analysis
· Develop a theme for your new space
· New space design/furniture layout
· Sorting, organizing, editing items to move/donate/sell
· Coordinate sale of items at garage sale, Craigslist, etc.
· Oversee packing, unpacking and setting up one or all rooms
· Shopping and design assistance for new items
· Interior decorating, accessorizing new space
· Home sale prep and Staging
· Window Treatments
· Color Consultations

I hope these tips help you as you transition into your new space. If you need assistance please call us at 336.406.7072, we can help you make a smooth transition.